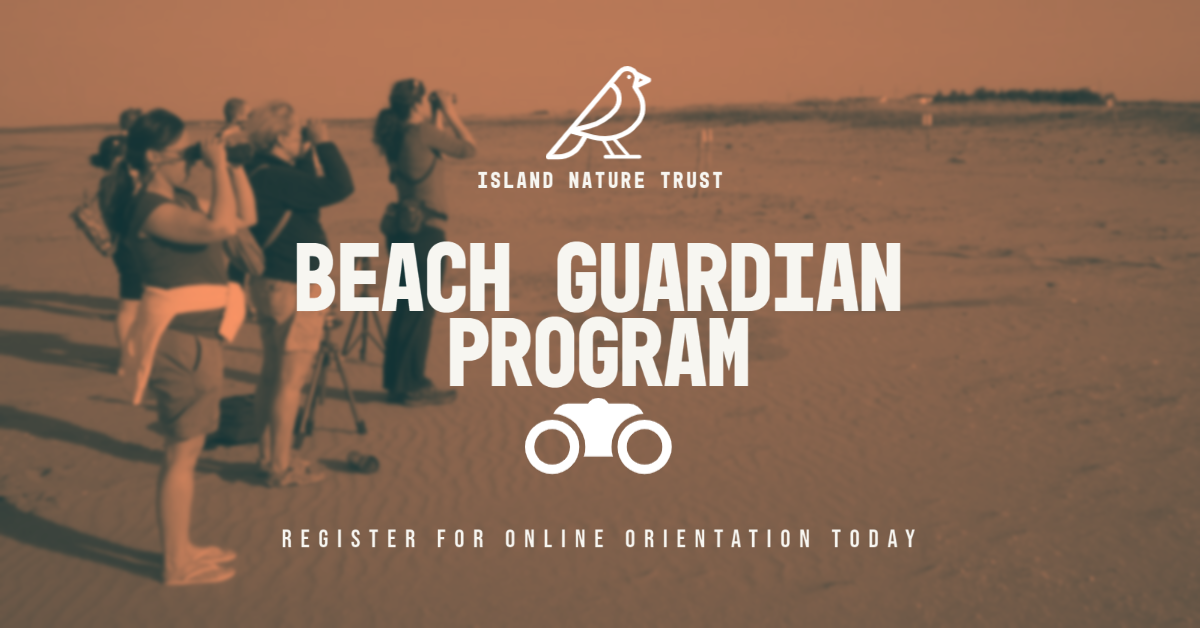 INT is presenting an online seminar to teach volunteers how to help protect vulnerable coastal bird species
BECOME A BEACH GUARDIAN
Monitoring and protecting Piping Plovers on PEI beaches since 1995
---
---
Spring has finally arrived! It's time to brush away the winter cobwebs and begin helping vulnerable Island wildlife. In preparation for the seasonal return of the valiant piping plover and bank swallow, we are asking Islanders to help us on our mission to help protect these fragile but tenacious birds.
Who would have thought that "a walk on the beach" could be so beneficial to vulnerable coastal wildlife? This is a volunteer opportunity like no other. As a Beach Guardians you will have an opportunity to not just enjoy a stroll on the beach but learn to see our beautiful coast in a new way and connect with nature, all while playing a crucial role in the conservation of species at risk.
As a guardian you will be tasked with very important monitoring and data collection related to the Piping Plovers and the Bank Swallow. These beautiful birds are facing so many challenges and could do with your help.
Over the years our Beach Guardians have also participated in beach clean-ups, habitat restoration projects, shorebird identification workshops and other training opportunities.
Guardians will be invited to attend a virtual training session at 10am on April 27th, and further training in the field will be arranged.
A guardian is required to choose a beach to monitor, program staff will advise and orient the guardian during the live streaming seminar. Requirements below.
---
📅 THURSDAY 27TH APRIL 2021 TBD
🕖 10am TBD
📍 STREAMING INVITATION BY EMAIL
---
YOUR PRESENTER
VICKI JOHNSON
Piping Plover Coordinator
Vicki is a graduate of Holland College's Wildlife Conservation Technology program and is passionate about conserving our Island wildlife. Vicki joined the INT team as an intern in 2017. She now works with the Piping Plover program as the program coordinator.
---
GUARDIAN REQUIREMENTS:
1. Choose a plover nesting beach that you can visit regularly, close to home or work and where plovers may be disturbed by human use.
2. Visit their beach weekly and to keep track of the amount of time spent volunteering over the summer.
3. Report any observations and information that you gather from a beach visit to your Volunteer Coordinator.
4. Watch for plovers outside the marked area, but are not permitted to enter the marked area.
5. Observation should always be done at a distance of at least 50m, using binoculars or a spotting scope.
6. Should be willing to take notes, fill out a simple report form for each visit, have binoculars and their own transportation.
7. Rare emergency situations are reported quickly to an appropriate agency.
---
Plover Program staff will provide guardians with training materials, identifying clothing (t-shirts), contact phone numbers and email addresses for questions and reports of any significant events, and updates on the population throughout the season.
---
Learn more about the Piping Plover here in our species at risk section
---
For more info about the Beach Guardian Program
---
This project was undertaken with the financial support of Environment and Climate Change Canada
Ce projet a été réalisé avec l'appui financier du Environement et Changement Climatique Canada
–
---