Closing Date: October 21st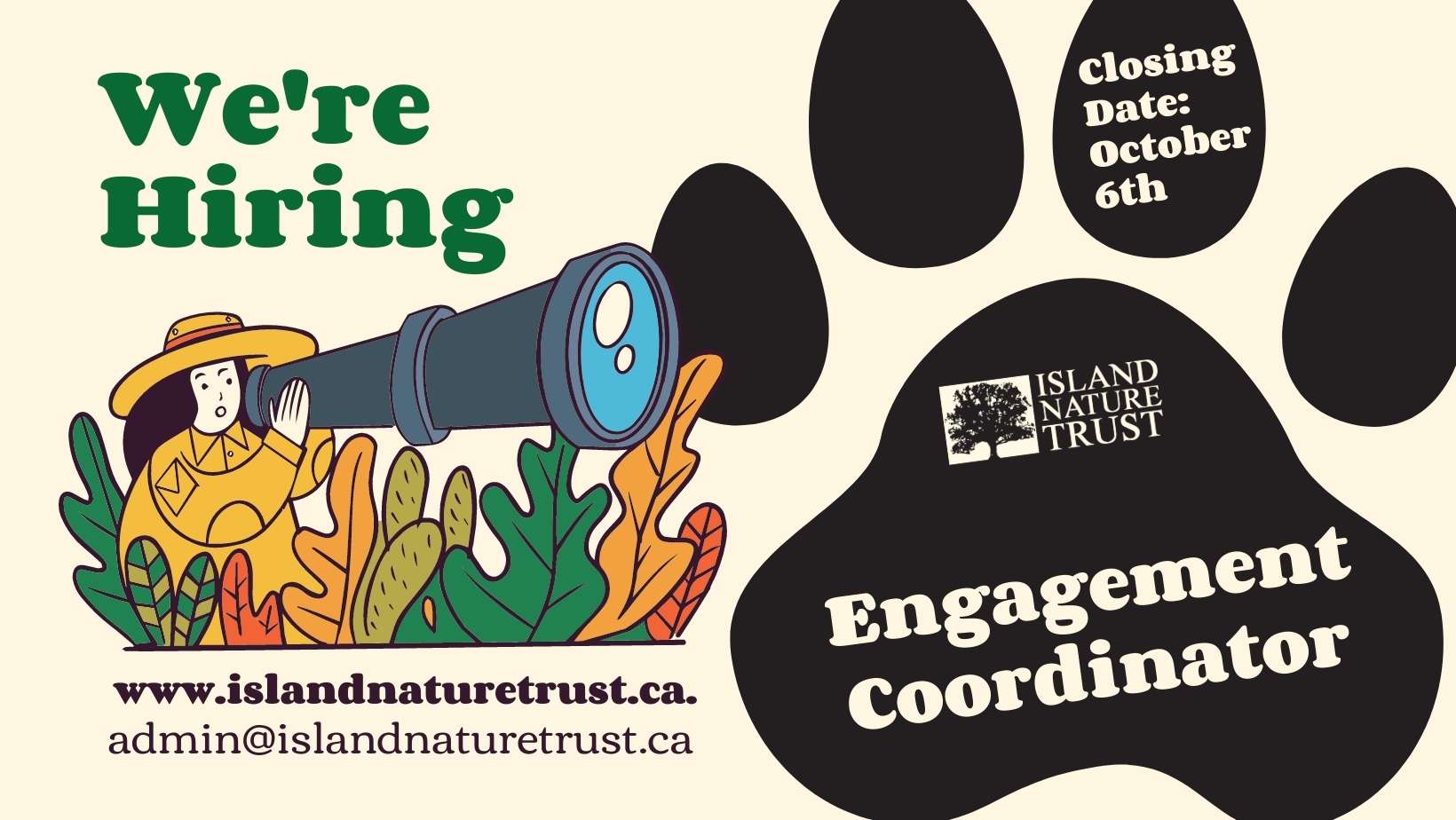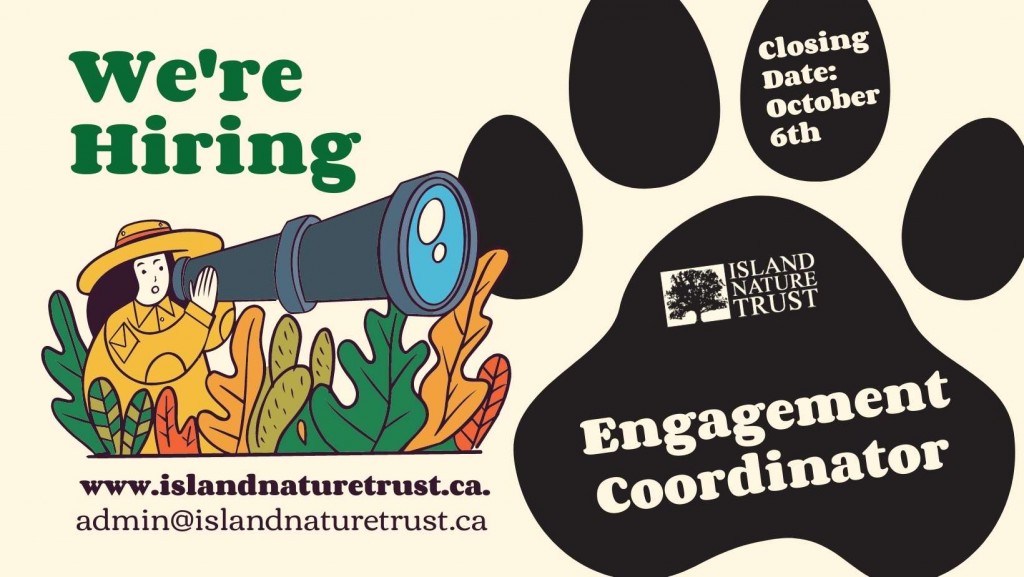 About the Position
Reporting to the Director of Conservation, the Engagement Coordinator will coordinate all aspects of volunteer support programs and other public engagement activities.
The participation of volunteers in conservation and public engagement in conservation programs are key components of the work of Island Nature Trust. The Engagement Coordinator will work with management to support and resource INT's Beach Guardian and Conservation Guardian programs. The Engagement Coordinator will also organize various public engagement activities, including the development of educational materials, scheduling and delivery of field trips and in-class presentations for schools, and the planning of INT's annual Passport to Nature outreach event series.
Duties and Responsibilities
Under the direction of the Director of Conservation and assistance of the species-at-risk and land conservation teams, the Engagement Coordinator will coordinate all aspects of Island Nature Trust's outreach & education programs including:
Recruitment, resourcing and retention of volunteer Guardians. This includes working with program staff to develop and organize training and appreciation events, as well as providing regular support and communication for Guardians.
Coordinating INTs in-school education programs by participating in the development of programming as well as scheduling and delivering in-class presentations and field trips.
Developing INT's Passport to Nature series.
Requirements
Education
Essential: post-secondary training in ecology, wildlife biology, or other related field
Desirable: Certificate, diploma, or degree in education or engagement organizing
Experience
Essential: A minimum of one years related field experience. Equivalencies may be considered
Desirable: Prior experience coordinating volunteers and/or engagement organizing
Desirable: Experience working with not-for-profit organizations
Skills
Essential: Organized and methodical approach to working – manages time effectively, works to deadlines and is adaptable to modified work plans
Essential: Ability to work independently, seek assistance and input as required, and to work in interdisciplinary teams
Essential: Excellent public speaking skills, ability to present scientific concepts to a range of age groups, comfortable in speaking with people from a broad range of backgrounds and experiences
Essential: Strong written communication skills and an ability to organize and present information clearly
Essential: Strong computer skills, including proficiency with MS Office programs particularly Word and Excel and use of internet, email, social media, and databases
Desirable: Creative and innovative
Desirable: Ability to use GPS and Avenza maps
Knowledge
Desirable: Knowledge of PEI's natural landscapes, habitats, natural communities and species
Desirable: Knowledge of engagement organizing strategies
Desirable: Knowledge of graphics and communications relations software tools
Personal Attributes
Essential: Friendly and positive personality, team player
Desirable: Passion and dedication for environmental conservation and education
Term of employment
This position is offered as a full-time contract (37.5 hours a week) beginning in October 2021 until March 31st, 2022, with the possibility of extension
The position is based in Charlottetown, PE but will require working with other staff at locations elsewhere in the province
The pay rate for this position is $18/hour
Must be a Canadian citizen and resident of the Maritimes
Must have a valid driver's license and access to a vehicle
How to Apply
The closing date to apply is October 21st, 2021 by 5pm AST
Please submit a cover letter, resume, and name and contact details for 3 references to:
Jordan Smith, Administrative Assistant
Island Nature Trust
P.O. Box 265 Charlottetown, PE C1A 7K4,
Email: admin@islandnaturetrust.ca
By hand: 112 Longworth Ave, Charlottetown, PE
While we will only be contacting those candidates selected for an interview, we do greatly appreciate your interest in the work of Island Nature Trust.