Closing Date: June 18th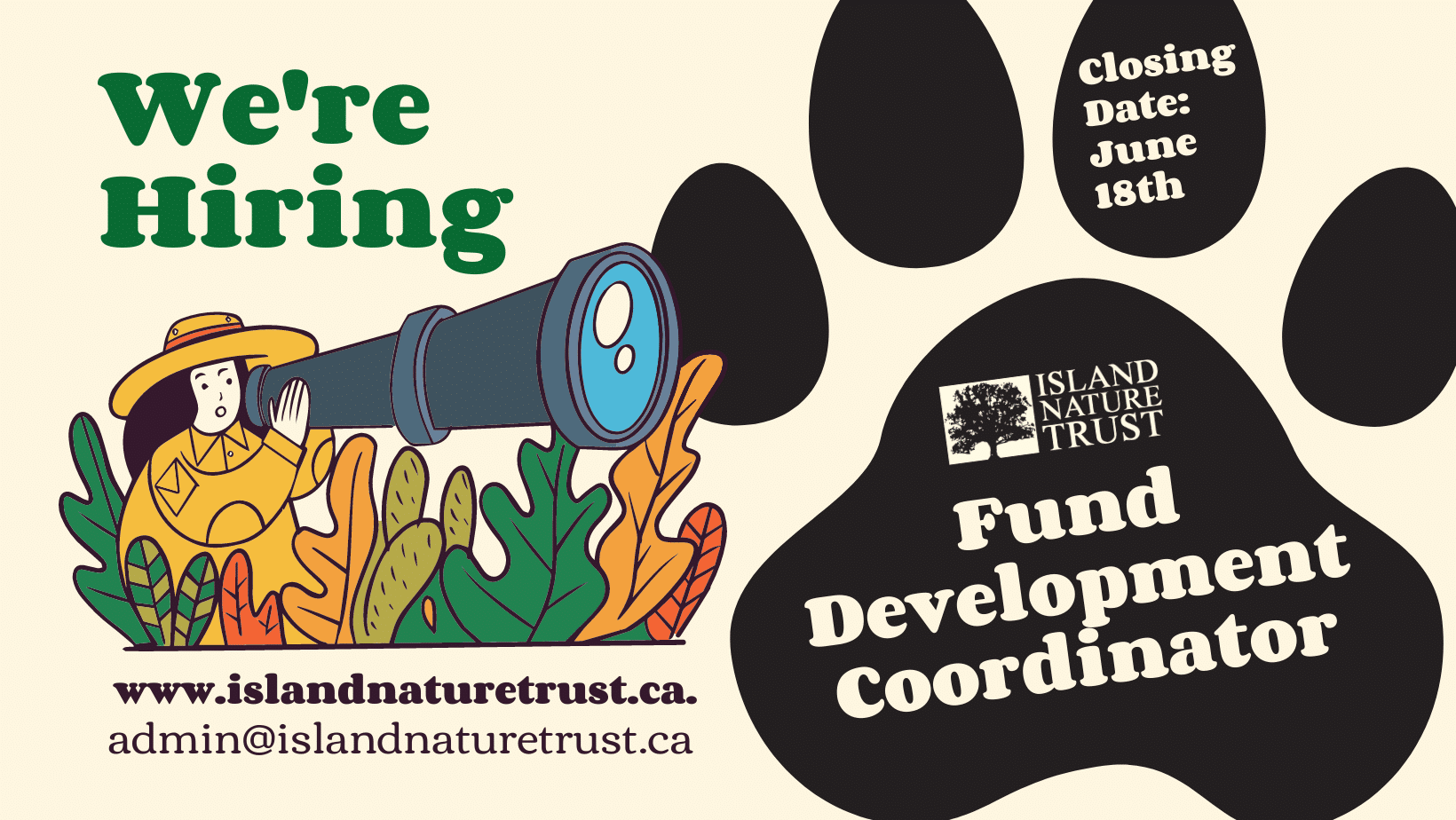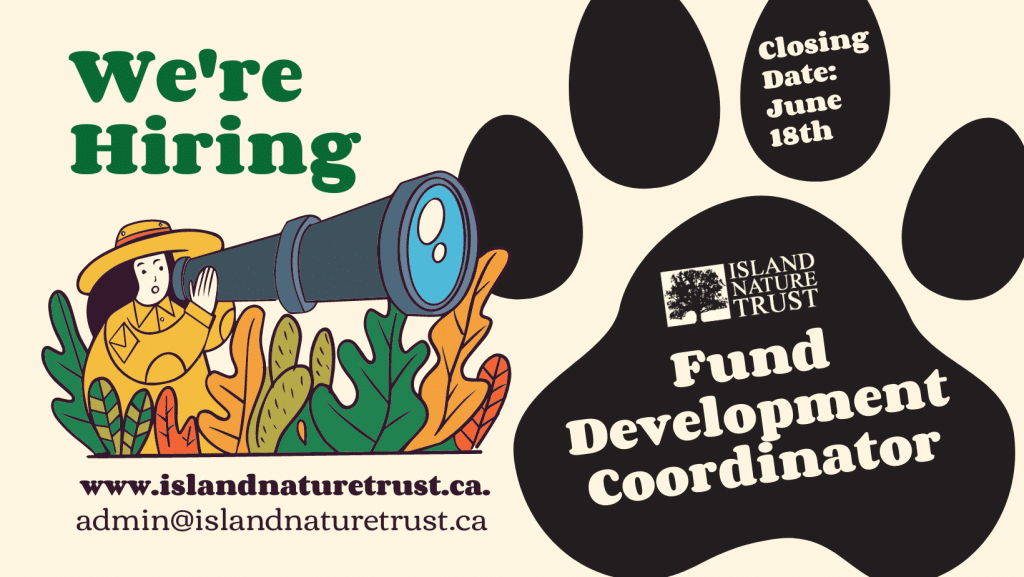 FUND DEVELOPMENT COORDINATOR
Island Nature Trust is looking for an energetic, organized self-starter to join their growing team. The Fund Development Coordinator will work with the Executive Director and Development Committee and will be responsible for providing coordination and leadership on all fund development initiatives. This will include, but is not limited to, building support from individuals, corporations, foundations and other sources of capital, operating and project funding. This position is suited to someone looking to build a rewarding career in development. If you're looking to join a growing not-for-profit with big ambitions, then please apply. Duties/expectations listed below:
Development Responsibilities
Leading the implementation of the Trust's fund development strategy with a focus on growing donations from individuals, corporate donors and foundations
Growing a third party community fundraising program
Identifying and managing sponsorship opportunities
Identifying and organizing the stewardship process for major gifts for land and capital acquisitions
Researching public and private funding opportunities and assisting the management team with proposal development
Individual Donor / Corporate Relations
Researching prospects for the Development Committee
Implementing donor stewardship program and ensuring donors are recognized accordingly
Records Management
Keeping accurate and detailed records of donors, donations and prospect information using the Trust's Donor Management System (DMS)
Reporting on funding goals
Coordinating with the Office Manager to confirm invoicing, payment collection and receipting
Marketing/Communications
Working with the management team to ensure development programs are being marketed and promoted properly through a mix of paid, earned and free mediums
Ensuring the entire fund development portfolio is easily found and accessible to prospective donors (ways to give, legacy planning, pledges, e-commerce)
Guiding and organizing creative for various campaigns (pamphlets, posters, flyers, web content, social media content, presentations etc…)
Event Coordination
Lead and coordinate donor and volunteer appreciation events
Lead and coordinate fundraising events
Other Duties
Providing support to other staff when required. This could include assisting administrative staff with their duties, helping with field work, or organizing communication functions outside of development work.
Qualifications:
Post-secondary graduate with a degree or diploma in Event Management, Administration, Marketing, Business, Public Relations or Non-Profit Fundraising
CFRE certificate an asset
Proficiency with Microsoft Office, Canva, Photoshop and other relevant tech
Experience with WordPress
Ability to learn new database systems easily
Savvy with Facebook, Twitter, Instagram and LinkedIn
Knowledge of donor stewardship and practices, fundraising, marketing strategies and media operations
Comfortable with public speaking and media relations
Strong networking skills
Ability to show discretion, tact and sound judgement
Exceptional communication and organizational skills
Proven leadership capabilities
Experience organizing events
Strong research, analytical and reporting skills
Ability to work independently, take initiative and manage multiple projects at once
The ideal candidate will have a strong sense of commitment to the environment and preserving and protecting land for future generations of Islanders and wildlife to enjoy.
Previous experience in a fund development role is preferred. Candidates with transferable skills are invited to apply.
This is a full-time position with opportunities for growth within the organization
Professional development opportunities will be provided
37.5 hours a week – Monday to Friday in an office environment in Charlottetown, PEI
Some evening and weekend work required
Wage will commensurate with experience
Reporting to: Executive Director
Cover letters and resumes can be sent to admin@islandnaturetrust.ca. Only those candidates selected for an interview will be contacted.
Closing Date: June 18th