A five-year agreement with PEI Liquor Control Commission and partnering suppliers, has helped the Trust acquire natural areas in Alexandra and significantly accelerated its protection program.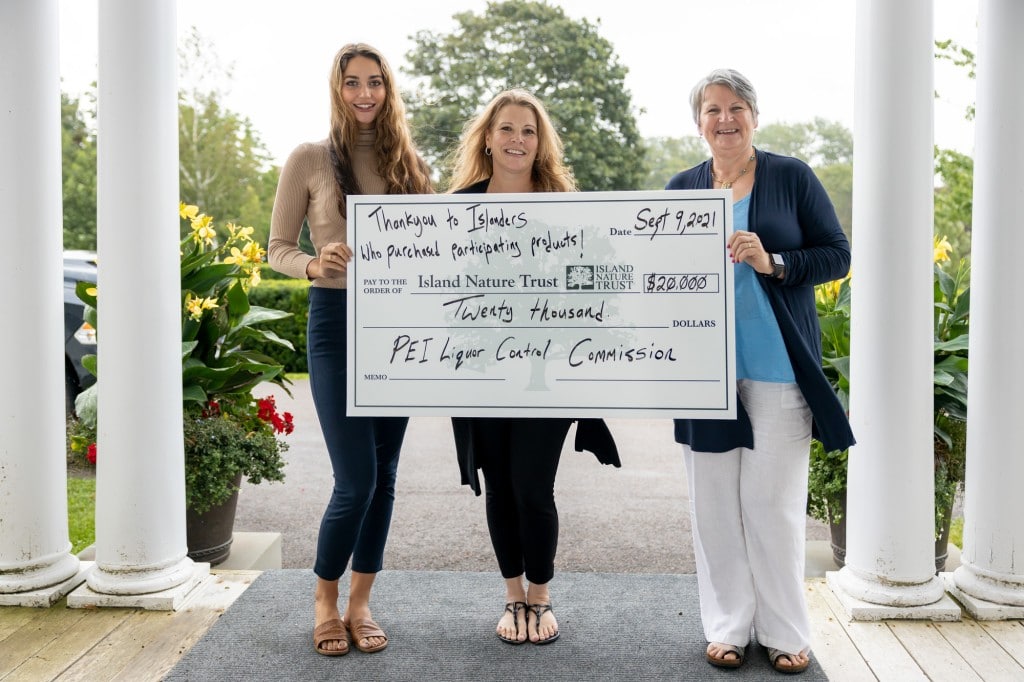 The successful collaboration beginning in Spring 2016 – taking a one-year hiatus in 2020 due to the pandemic – concluded this year. The project running this year from April 1st to May 18th saw participating suppliers of beer, wine and spirits donate a portion of their sales of participating products at PEILCC retail outlets to Island Nature Trust. Signage promoting this initiative – including the featured products – could be found in all 18 PEI Liquor retail outlets across the province.
Island Nature Trust is committed to investing in the future of Islanders by working to protect natural landscapes in PEI. With $95,337 raised over five years, funds from the initiative have helped Island Nature Trust protect over 1,600 acres of forest, wetlands and coast in PEI.
In the Spring of 2020, raised funds from the initiative went directly to the purchase of Crown Point headland in Alexandra. The 120-acre parcel is natures proverbial jewel in the crown. Yet its location next to the urban hubs of Charlottetown and Stratford, meant this ecological treasure was threatened by population growth and development before the Trust acquired the western headland. With adjacent parcels in the Trust's sights, a corridor of connectivity can be realised in the acquisition and protection of the broader span of continuous saltmarsh along Pownal Bay. This stretch of shoreline with its extensive salt marsh wetlands are critical resting places for migrating shorebirds and waterfowl moving north – south on the Atlantic Migratory Flyway.
"We are so grateful for multi-year fundraising partnerships such as this one. In addition to providing much needed funds to support our on-going land securement efforts, this campaign gave us a platform to talk about the work of the Trust, share key conservation messages and foster discussion about the importance of protecting PEI's natural landscapes for future generations of Islanders and wildlife."

Bianca McGregor, Executive Director, Island Nature Trust.
In addition, the partnership has helped INT to advance its stewardship program across its 65+ Natural Areas, allowing Island Nature Trust to maintain and steward our trails in addition to hosting education and engagement opportunities. As Island Nature Trust's property portfolio increases so does its costs for responsible land management, public trails stewardship, effective communication with Island communities, education, and collaboration with user groups.
"Government is proud of the partnership that the PEI Liquor Control Commission (PEILCC) has with Island Nature Trust, as it leads to change that benefits our entire Island. Responsibility is at the heart of the PEILCC, and this partnership showcases this commitment through investing in the future and benefiting our environment. I want to thank the Island Nature Trust for their continued work in ensuring our Island landscapes are protected for the future."

Darlene Compton, Minister of Finance for Prince Edward Island
About INT
Island Nature Trust is a membership-based, non-government, Canadian charity dedicated to land conservation in Prince Edward Island since 1979. We envision a future where P.E.I. has a network of protected, robust natural areas championed by knowledgeable, engaged Islanders.
Island Nature Trust envisions a network of protected natural areas across PEI sustained by the love and generosity of Islanders today for the enjoyment of Islanders and wildlife tomorrow.
Island Nature Trust:
Acquires land with representative natural ecosystems, through donation and purchase
Delivers numerous nature education programs to children and adults
Manages its properties to retain and restore their ecological values
Assists private landowners to manage and protect their own properties
Monitors and protect species-at-risk on the Island
Island Nature Trust owns or lease ­­­­5680 acres, almost all of which is designated under the PEI Natural Areas Protection Act (NAPA) and open to the public for natural space enjoyment.
WOULD YOU LIKE TO BECOME A CORPORATE SPONSOR?

INT is excited to build and nurture strong relationships with ecologically minded local businesses or organizations. Let us help you grow by allowing us to grow!

To express your interest, contact our fund development coordinator, Charlotte Thompson at development@islandnaturetrust.ca or call 902-892-7513