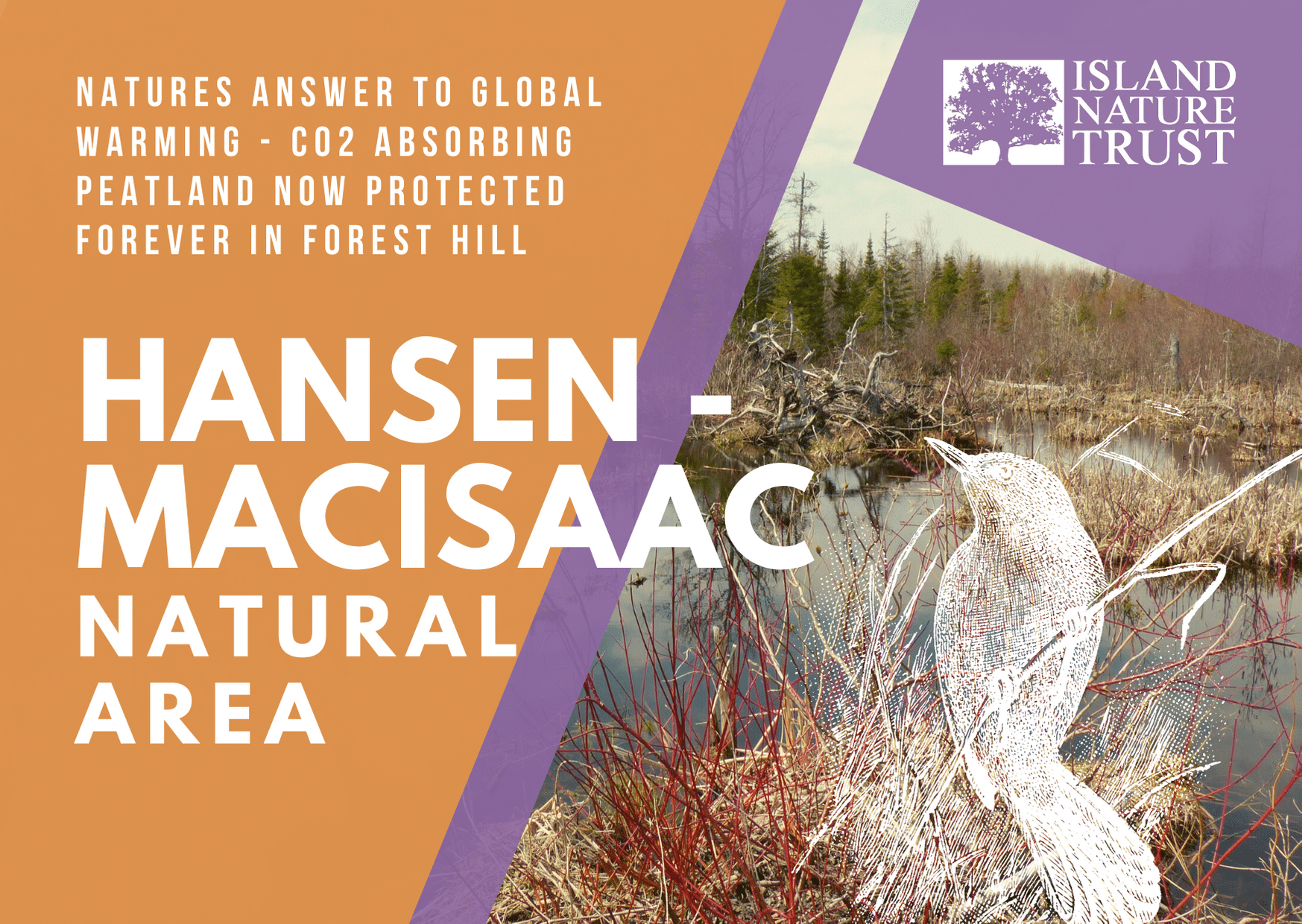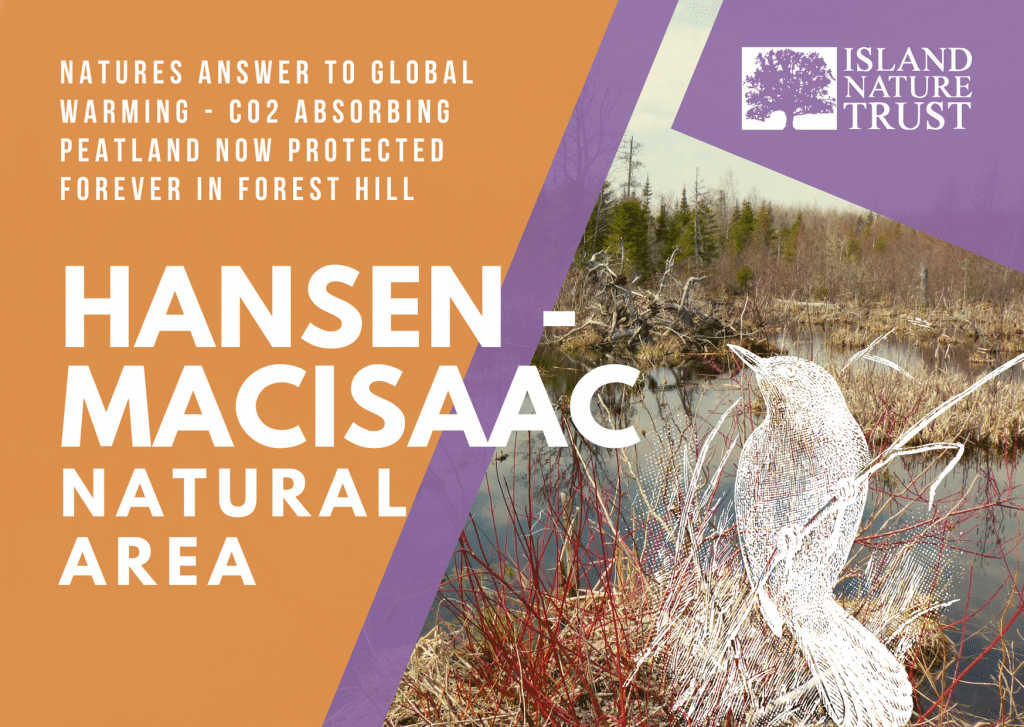 136 hectare (337 acre) property in Forest Hill contributes to a sizeable unfragmented block of rich lowland forest in PEI and is home to C02 absorbing fen peatland – a natural combatant against global warming
Forest Hill is an ecological treasure trove, providing benefits to both Islanders and wildlife. Defined by the presence of lowland forest, fen peatland and riparian habitats in the St. Peters River watershed, the Hansen – MacIsaac Natural Area is a relatively untouched area of eastern Prince Edward Island. It is the single largest land parcel secured by the Trust in its forty-one-year history. Recognized for its high ecological value by the Minister of Environment & Climate Change Canada, the parcel, located several kilometers to the Southeast of St Peter's Bay, will now be protected forever thanks to an Ecological Gift donation from Carl Hansen and Dan MacIsaac.
The peatlands that constitute nearly a half of the 337-acre property serve the Island community through continued carbon sequestration, groundwater and coldwater springs protection. Although they only occupy 3% of the global land area, peatlands contain about 25% of global soil carbon — twice as much as the world's forests. Acting as a natural carbon sink, they absorb 150 to 250 million tonnes of carbon dioxide (CO2) from the atmosphere each year worldwide. In a province that has experienced a loss of ­­­­almost 1,200 acres of peatland due to mining, protecting this vital ecosystem service area in perpetuity will mitigate the effects of climate change and directly benefit Islanders for generations to come.
Forest Hill is notable for its intact and contiguous lowland forest blocks, which are rare for PEI. Recognized as a Priority Place for biodiversity and species-at-risk in PEI, the forested wetland is home to migratory songbirds, such as the Ruby-crowned kinglet and palm warbler. Three species of frog (wood frog, northern leopard frog and spring peeper), beaver lodges, muskrat dens, coyote scat, and ruffed grouse have all been observed at the site.
In addition, Forest Hill has added ecological value because of its connectivity to other protected lands. Near to Greenwich, PEI National Park, it is also bounded to the south by the Forest Hill Natural Area and to the north by the River Wetlands Wildlife Management Area, both owned by the Province. To the north lies a property within the St. Peters River watershed that INT is in the process of securing as another Ecological Gift. Forest Hill's proximity to protected natural spaces provides an important linkage in allowing dynamic ecosystems and ecological services to flourish.
To the south, the provincial Forest Hill Natural Area supports walking and horse-riding trails that help Islanders connect to their environmental heritage in an immersive way. INT will honour the donors' wishes to see a loop trail addition to this network using the existing woods road that enters and exits onto MacSwain Rd. The woods road follows the highest elevations on the property where Islanders can experience the natural beauty of the forest without impacting on the natural spaces.
Quotes
"Contiguous forests are important in minimizing some of the long-term risks to ecological integrity from threats like windthrow in high intensity storms, extended drought and invasive plant infestations. There are also many forest songbirds that require large blocks of intact habitat for nesting and foraging. It is so critically important for people and wildlife that we retain and protect these last remaining large natural landscapes."
– Megan Hartris, Director of Conservation for Island Nature Trust
"Our experience with Island Nature Trust and the process of donating through the Ecological Gift program was seamless. From the start, Trust staff put us in the right direction and carried out all the work for the application. There was very little effort expected on our part. Also, we appreciate that Island Nature Trust agreed to provide access to horse riders and extend the existing trail to allow for Islanders to appreciate nature on the land."
– Carl Hansen, Land Donor
"We love the Island, it's a paradise. To know that Forest Hill's natural legacy will continue forever under the protection of Island Nature Trust means a lot to us."
– Dan MacIsaac, Land Donor
"The Abegweit Conservation Society is pleased to hear of the land donation and the establishment of the Hanson MacIsaac Natural Area in Forest Hill. All of the St Peters Bay watershed drainage has been inhabited by Indigenous peoples that include the present Mi'kmaq for over 10,000 years. Archaeology has well established the presence of the Mi'kmaq all along the bay area including Greenwich. Since the wetlands of Forest Hill contain the culturally significant, and threatened wisqoq (black ash), it is highly likely that many had ventured into the wetland forests of this location to harvest wisqoq for making baskets, axe handles and other implements for their daily use. A variety of medicinal plants also used by the Mi'qmaq can easily be found within all the habitats contained in this new Natural Area. It is reassuring to know that the habitats for plants and wildlife will be protected and accessible for generations to come."
– Rebecca Hersom-Petersen, Natural Resource Projects Manager at Abegweit Conservation Society
Images
Download from this link
Quick Facts
Carbon sequestration is the process of capturing and storing atmospheric carbon dioxide. It is one method of reducing the amount of carbon dioxide in the atmosphere with the goal of addressing global climate change
The drainage of peatlands for agriculture and forestry has resulted in the emission of extensive greenhouse gasses into the atmosphere, most notably carbon dioxide and methane
It is estimated that drained peatlands account for around 10% of all greenhouse gas emissions from agriculture and forestry, worldwide
More than a third of the world's peatlands are in Canada, and they cover about 14 per cent of Canada's land mass
Three main factors giving peatlands the ability to sequester and store carbon are the high biological productivity, high water table and slow decomposition rates
Ecosystem services are the many and varied benefits to humans provided by the natural environment and from healthy ecosystems. Such ecosystems include, for example, agroecosystems, forest ecosystems, grassland ecosystems and aquatic ecosystems. Healthy, functioning ecosystems offer services like natural pollination of crops, clean air, extreme weather mitigation, and human mental and physical well-being
Forest Hill is the 24th Ecological Gift donation received by Island Nature Trust. The Trust facilitates every step of the application process for donors. Process time averages six months
Ecological Gift – Canada's Ecological Gifts Program provides a way for Canadians with ecologically sensitive land to protect nature and leave a legacy for future generations. It offers significant tax benefits to landowners who donate land or a partial interest in land to a qualified recipient, by providing exemption from capital gains tax
The Mi'kmaq name for St. Peters Bay is Puku'samkek – At the place where there are plenty of clams in the sand.
About
Island Nature Trust is a membership-based, non-government, Canadian charity dedicated to land conservation in Prince Edward Island since 1979.
We envision a network of protected natural areas across PEI sustained by the love and generosity of Islanders today for the enjoyment of Islanders and wildlife tomorrow.
Visit our website: www.islandnaturetrust.ca
Facebook: www.facebook.com/islandnaturetrust
Instagram: www.instagram.com/islandnaturetrust/
LinkedIn: www.linkedin.com/company/island-nature-trust
Contacts
Ben Russell – Communications Manager
902-892-7513 or 902-566-9150
ben@islandnaturetrust.ca