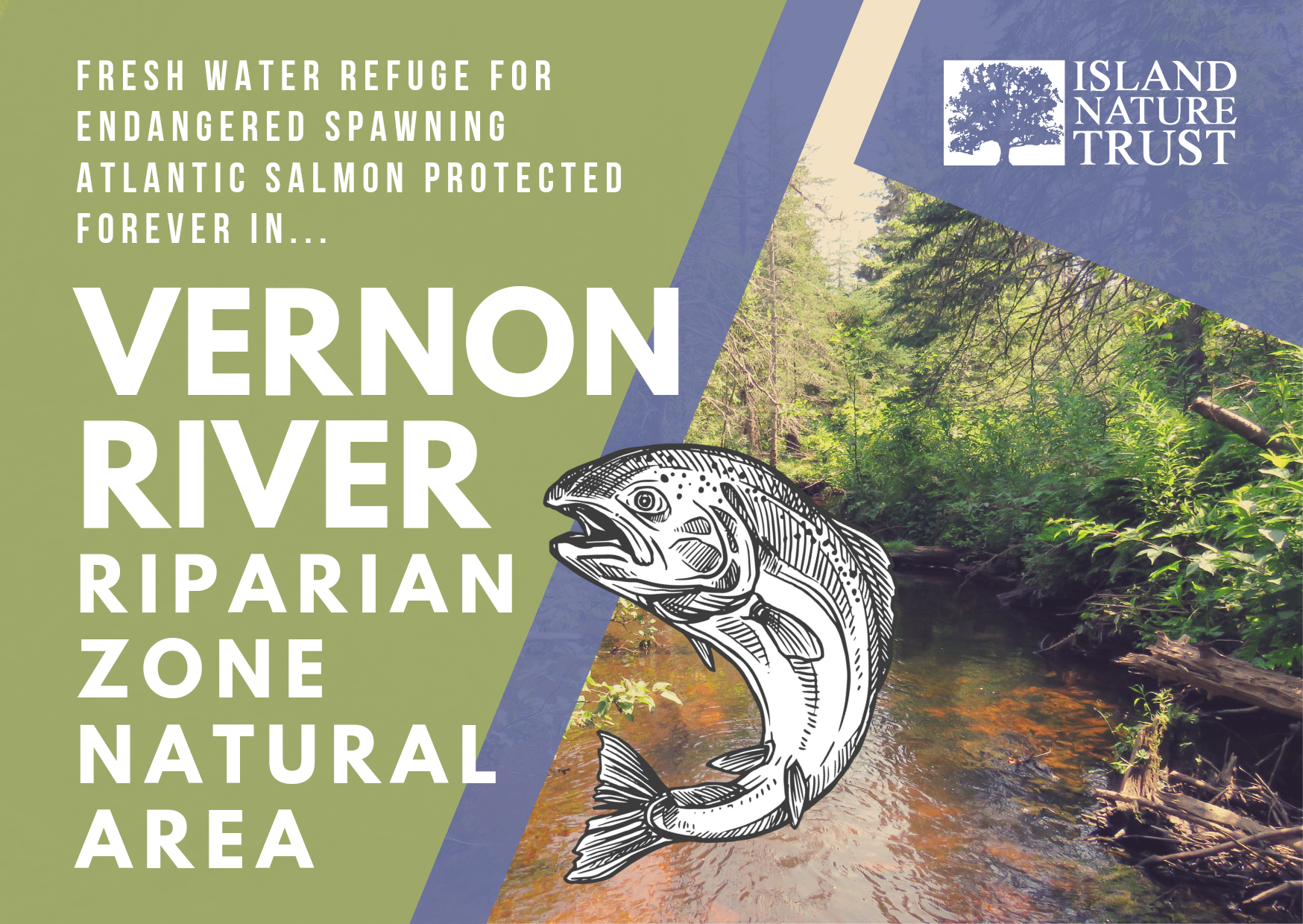 Surrounded by an extensively farmed watershed, the ecologically diverse riparian forest provides a stable buffer for two headwater tributaries delivering spring water to Vernon River and Orwell Bay.
Nestled in the rural farming community of Vernon River approximately 25 km east of Charlottetown, lies a newly protected forest sheltering a section of headwater stream that is key to the breeding success of wild stocks of Atlantic salmon, listed as endangered under Canada's Species at Risk Act. The 12.1-hectare (30.0 acres) Vernon River Riparian Zone Natural Area was donated to Island Nature Trust late in 2020 by the Schellen family as an Ecological Gift. It contains riparian forest of mixed age structure in steep terrain with groundwater springs that exit the banks to feed the river. The forested floodplain with many vernal pools supports a diverse community of insects, amphibians, breeding migratory songbirds and small mammals. An abundance of spring-fed cold water and the natural cobble river bottom provide excellent conditions for breeding Atlantic salmon and juvenile brook trout before emptying into Orwell Bay, an internationally recognized Important Bird Area.
In a province with less than 50% forest cover, riparian forest like that in the Vernon River Riparian Zone Natural Area plays a pivotal role in free movement of wildlife by maintaining ribbon connections between highly fragmented forest stands. With the land's proximity to another protected natural area on the same watercourse there is an even greater benefit for wildlife in the area.
"PEI's many branched, short rivers can support rich freshwater and land-based wildlife communities where they are adequately buffered from wind, thermal and land use stresses by a band of native forest. INT can now ensure that part of that important corridor on the Vernon River stays intact forever." – Megan Harris, Executive Director, Island Nature Trust
"In 2008 the PEI Wild Atlantic Salmon Survey found no juvenile parr or spawning redds in this section of Vernon River. With the help of our work crews and the cooperation of landowners since that time, the in-stream habitat for Atlantic salmon has improved and the salmon have returned. The timing of the gift from the Schellen family is perfect; we have begun to seek the support of adjacent landowners in establishing a fifty-meter buffer zone beyond the legislated 15-meters required and this protected area serves as a place to build on." – Clarence Ryan, Founder & Chair of Pisquid Watershed Enhancement Project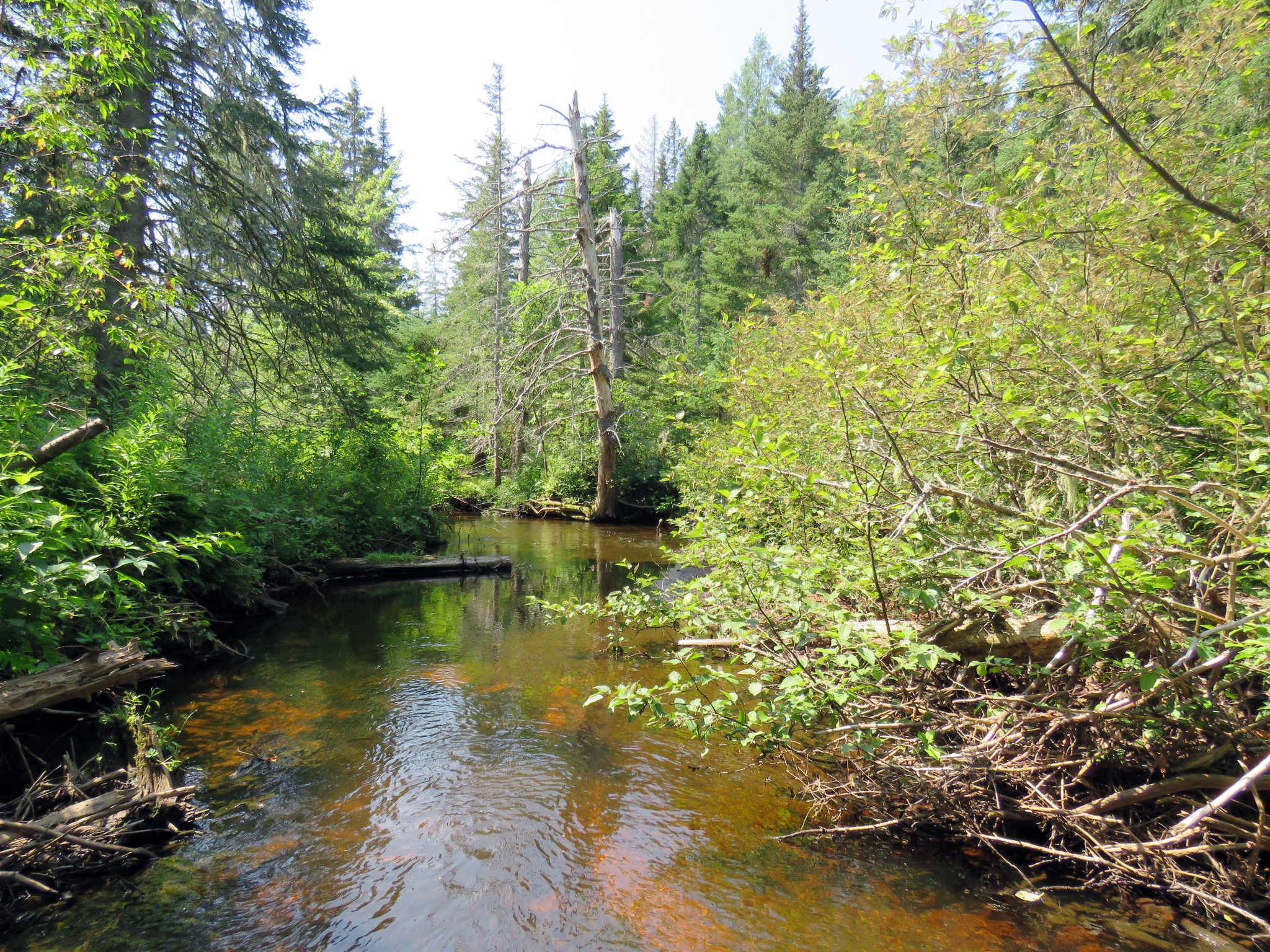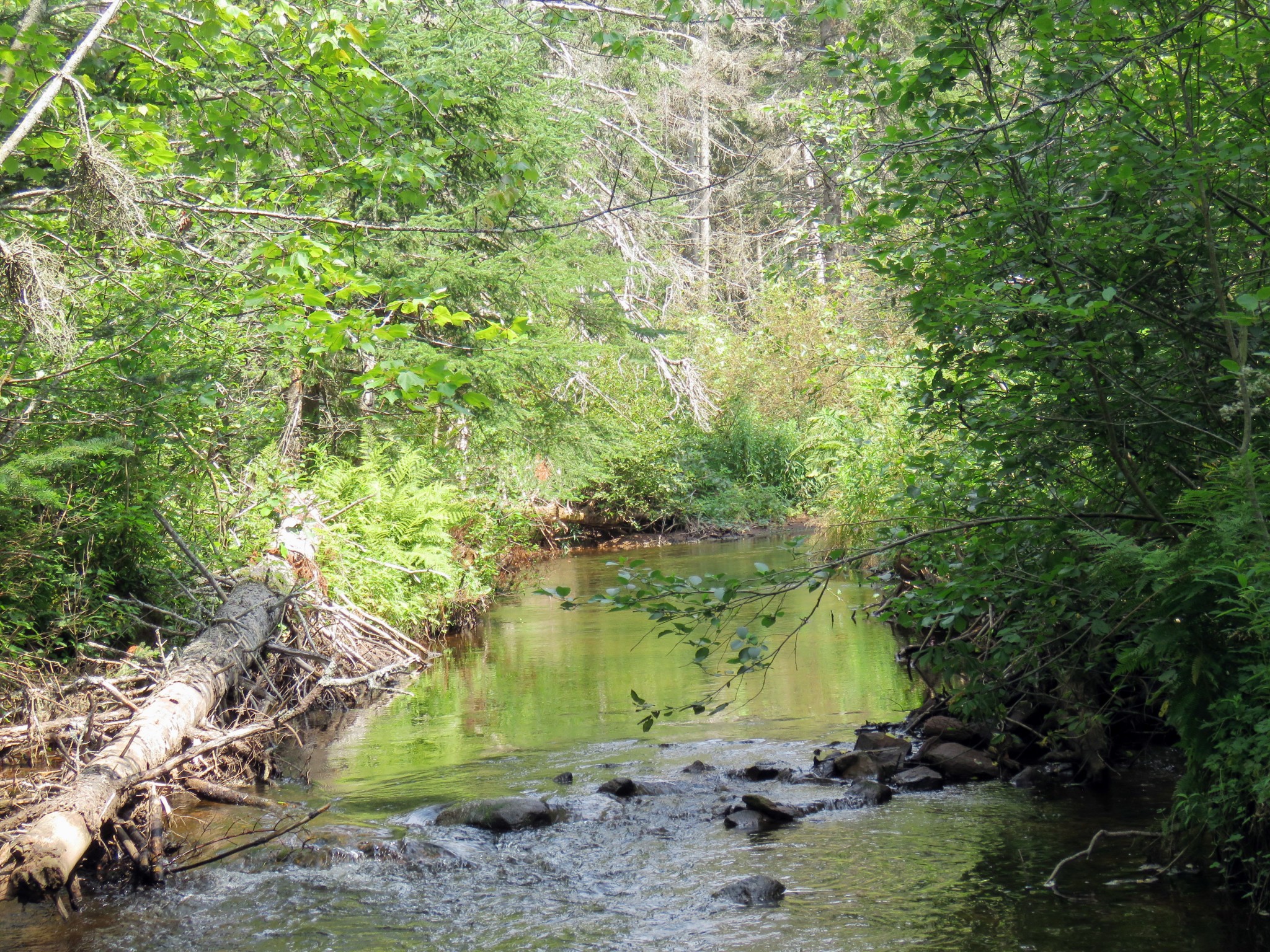 "Thanks to the Island Nature Trust and landowners like the Schellen family, the spawning habitat for the endangered Atlantic salmon will be protected for generations to come. Through programs like the Canada Nature Fund's Natural Heritage Conservation Program and the Ecological Gifts Program, we are conserving iconic nature and wildlife in PEI and making progress toward our goal of conserving a quarter of Canada's land by 2025." – The Honourable Jonathan Wilkinson, Minister of Environment and Climate Change
"Protecting our Island wildlife is vitally important. We're very grateful to the generous land donors and the Island Nature Trust for making today's announcement possible, and for helping us conserve part of Vernon River for generations to come." – The Honourable Lawrence MacAulay, Minister of Veterans Affairs and Member of Parliament for Cardigan
Island Nature Trust will manage the 12.1-hectare (30.0 acres) property to conserve the forest, river and associated native wildlife communities. A small field will be replanted to expand the forest habitat, while existing forest will be diversified with planting of native species that would have historically been present but are now missing from the community.
The property was donated to Island Nature Trust under the Government of Canada's Ecological Gifts Program. This program provides enhanced tax incentives for individuals or corporations who donate ecologically significant land. In addition, this project has been made possible in part by the Government of Canada through the Natural Heritage Conservation Program, part of Canada's Nature Fund.
Quick Facts
• The importance that the area plays in Atlantic Salmon conservation has been documented by the Prince Edward Island Atlantic Salmon Spawning Survey 2017 and the Renewed Conservation Strategy for Atlantic Salmon in Prince Edward Island.
• A riparian forest or riparian woodland is a forested or wooded area of land adjacent to a body of water such as a river, stream, pond, lake, marshland, estuary, canal, sink or reservoir.
• Riparian areas provide critical habitat for many types of wildlife, because of their diverse and productive plant communities, complex structure, and proximity to water.
• Pisquid River Enhancement Project is a community-based watershed management group founded in 1996 to specialize in environmental remediation and enhancement located in the Pisquid River watershed.
• Buffer Zones are the areas directly adjacent watercourses and wetlands. As of 2008, buffer zone regulations changed to 15 metres 'across the board'; previously, buffer zone width was determined by slope of the land.
• Buffer Zones are designed to protect deciduous forests near rivers, which provide canopied shade to riparian ecosystems. Cooler waters resulting from dappled, partial canopy coverage provide an optimal environment for wild Atlantic salmon breeding.
• The Province of Prince Edward Island has set a target of 7% of the landmass or 86,000 acres of natural areas to be protected by 2020.
• The head of Vernon River is the nearby location of historical Mi'kmaq campsites, along with the subsequent resource use. A Mi'kmaq place name has been uncovered for the river only: Mekwa'sik Sipu – "The river is full of redness".
About
Island Nature Trust is a membership-based, non-government, Canadian charity dedicated to land conservation in Prince Edward Island since 1979.
We envision a network of protected natural areas across PEI sustained by the love and generosity of Islanders today for the enjoyment of Islanders and wildlife tomorrow.
The Government of Canada's Natural Heritage Conservation Program (NHCP) is a unique public-private partnership to support new protected and conserved areas by securing private lands and private interests in lands. The program is managed by the Nature Conservancy of Canada (NCC). Federal funds invested in the program are matched with contributions raised by the country's land trust community.
To learn more about the Ecological Gifts Program, please visit http://www.ec.gc.ca/pde-egp/.
---
Refuge d'eau douce pour frai du saumon atlantique en danger protégé pour toujours à Vernon River
Entourée d'un bassin versant cultivé en profondeur, la forêt riveraine écologiquement diversifiée fournit une zone tampon stable pour les affluents d'amont qui fournissent de l'eau de source à la rivière Vernon et à la baie Orwell.
Nichée dans la communauté agricole rurale de Vernon River, à environ 25km à l'est de Charlottetown, se trouve une forêt nouvellement protégée abritant une section de cours d'eau qui est essentielle au succès de reproduction des stocks sauvages de saumon de l'Atlantique, inscrits comme espèces en voie de disparition en vertu de la Loi sur les espèces en péril du Canada. La famille Schellen a fait un don écologique de 12.1 hectares (30 acres) à Island Nature Trust à la fin de 2020 de la zone riveraine de Vernon River Natural Area. Il contient une forêt riveraine de structure d'âge mixte en terrain escarpé avec des sources d'eau souterraine qui sortent des rives pour nourrir la rivière. La plaine inondable boisée avec de nombreux bassins vernaux soutient une communauté diversifiée d'insectes, d'amphibiens, d'oiseaux chanteurs et de petits mammifères. L'abondance d'eau froide des sources et le fond naturel des pierres offrent d'excellentes conditions pour la reproduction du saumon de l'Atlantique ainsi que les ombles de fontaine juvéniles avant de se vider dans la baie Orwell, une zone importante internationale pour la conservation des oiseaux.
Dans une province où le couvert forestier est moins de 50%, une forêt riveraine comme celle de la zone riveraine de Vernon River Natural Area joue un rôle central dans la libre circulation de la faune en maintenant des liens entre les peuplements très fragmentés. La proximité du terrain avec un autre endroit naturel protégé sur le même cours d'eau donne un avantage encore plus grand pour la faune dans la région.
« Les nombreuses rivières courtes et ramifiées de l'Île-du-Prince-Édouard peuvent soutenir de riches communautés fauniques d'eau douce et terrestres où elles sont adéquatement protégées contre le vent, les stress thermiques et l'utilisation des terres par une bande de forêts indigènes. L'INT peut maintenant s'assurer qu'une partie de cet important corridor sur la rivière Vernon demeure intacte pour toujours. – Megan Harris, directrice générale, Island Nature Trust
« En 2008, le sondage du saumon sauvage de l'Atlantique de l'Île-du-Prince-Édouard n'a trouvé aucun juvénile (« parr ») ni aucun rouge de frai dans cette section de la rivière Vernon. Avec l'aide de nos équipes de travail et la collaboration des propriétaires fonciers depuis, l'habitat s'est amélioré et les saumons sont revenu. Le moment du don de la famille Schellen est parfait; nous avons commencé à demander l'appui des propriétaires fonciers adjacents pour établir une zone tampon de 50 mètres au-delà des 15 mètres prévus par la loi. Cet endroit protégé sert d'un lieu sur lequel on peut construire. » – Clarence Ryan, fondateur et président du projet d'amélioration du bassin versant de Pisquid
« Grâce à l'organisme Island Nature Trust et à des propriétaires fonciers comme la famille Schellen, l'habitat de frai du saumon de l'Atlantique, une espèce en voie de disparition, sera protégé pour les générations à venir. Au moyen de programmes comme le Programme de conservation du patrimoine naturel du Fonds de la nature du Canada et le Programme des dons écologiques, nous protégeons les espèces sauvages et la nature emblématique de l'Île-du-Prince-Édouard, et nous progressons vers notre objectif qui vise à conserver un quart des terres du Canada d'ici 2025. » – L'honorable Jonathan Wilkinson, ministre de l'Environnement et du Changement climatique
« La protection des espèces sauvages de notre île est d'une importance vitale. Nous sommes très reconnaissants envers les généreux donateurs de terres et l'organisme Island Nature Trust qui ont rendu l'annonce d'aujourd'hui possible, et qui nous aident à faire en sorte qu'une partie de Vernon River soit conservée pour les générations à venir. » – L'honorable Lawrence MacAulay, ministre des Anciens Combattants et député de la circonscription de Cardigan
Island Nature Trust gérera les 12.1 hectares (30 acres) pour conserver la forêt, la rivière et les communautés fauniques indigènes associées. Un petit champ sera replanté pour étendre l'habitat forestier, tandis que la forêt existante sera diversifiée avec la plantation d'espèces indigènes qui auraient été historiquement présents, mais qui sont maintenant absents de la communauté.
La propriété a été donnée à Island Nature Trust dans le cadre du Programme des dons écologiques du gouvernement du Canada. Ce programme offre des incitatifs fiscaux accrus aux particuliers ou aux sociétés qui font don de terres d'importance écologique. Ce projet a été rendu possible grâce au gouvernement du Canada par l'entremise du Programme de conservation du patrimoine naturel, qui fait partie du Fonds pour la nature du Canada.
Faits rapides
L'importance que joue la région pour la conservation du saumon atlantique a été documentée par le Sondage de frai du saumon de l'Atlantique de l'Île-du-Prince-Édouard de 2017 et la Stratégie renouvelée de conservation du saumon de l'Atlantique à l'Île-du-Prince-Édouard.
Une forêt riveraine ou un boisé riverain est une zone boisée à côté à un plan d'eau comme une rivière, un ruisseau, un étang, un lac, un marais, un estuaire, un canal, un évier ou un réservoir.
Les zones riveraines fournissent un habitat essentiel à de nombreux d'espèces sauvages, en raison de leurs communautés végétales diversifiées et productives, de leur structure complexe et de leur proximité de l'eau.
Pisquid River Enhancement Project est un groupe communautaire de gestion des bassins hydrographiques fondé en 1996 pour se spécialiser dans la remédiation et l'amélioration de l'environnement dans le bassin hydrographique de la rivière Pisquid.
Les zones tampons sont les zones directement à côté aux cours d'eau et aux terres humides. En 2008, la réglementation sur les zones tampons est changée à 15 mètres « à tous les niveaux »; auparavant, la largeur de la zone tampon était déterminée par la pente du terrain.
Les zones tampons sont conçues pour protéger les forêts à feuilles caduques près des rivières, qui fournissent de l'ombre à baldaquin aux écosystèmes riverains. Les eaux plus froides résultant d'une couverture de couvert forestier partielle offrent un environnement optimal pour la reproduction du saumon sauvage de l'Atlantique.
La province de l'Île-du-Prince-Édouard s'est fixé comme objectif de protéger 7% de la superficie ou 86 000 acres des milieux naturelles d'ici 2020.
La tête de Vernon River est proche des emplacements de camping historiques Mi'kmaq, ainsi que l'utilisation subséquente des ressources. Un nom de lieu Mi'kmaq n'a été découvert que pour la rivière: Mekwa'sik Sipu – « La rivière est pleine de rougeurs ».
Au sujet de
Island Nature Trust est une organisation caritative Canadienne non-gouvernementale basée sur des membres. C'est dévouée de conserver la terre à l'Île-du-Prince-Édouard depuis 1979. Nous envisageons un réseau d'endroits naturels protégés à travers l'Î-P-É, soutenu par l'amour et générosité des habitants de l'Île aujourd'hui pour l'amusement des personnes et la faune dans le futur.
La Programme de conservation du patrimoine naturel Canadienne est un partenariat unique public-privé qui soutien les nouveaux milieux protégés et conservés par sécuriser des propriétés privées et des intérêts privés dans les propriétés. La programme est géré par la Conservation de la nature Canada (CNC). Les fonds fédérales investis dans la programme correspondent avec les contributions amassés par la communauté Canadienne des organismes de conservation.
En savoir plus
Visitez nous au: www.islandnaturetrust.ca
Facebook: www.facebook.com/islandnaturetrust
Instagram: www.instagram.com/islandnaturetrust/
Les contacts
Ben Russell
Chef de communications
902-892-7513 ou 902-566-9150
ben@islandnaturetrust.ca